Proceedings
Conference proceedings are published by Ergon Verlag and one copy will be distributed free-of-charge to delegates at the conference. During the conference week additional copies will be on sale at a discount price of €29 or €25 for multiple copies (e.g. €50 for two copies).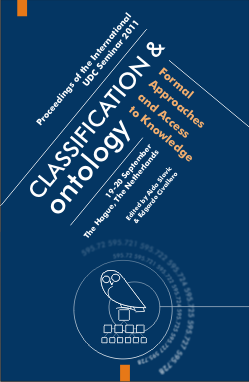 Classification and ontology: formal approaches and access to knowledge: proceedings of the International UDC Seminar, 19-20 September 2011, The Hague, The Netherlands. Edited by Aida Slavic & Edgardo Civallero. Würzburg: Ergon Verlag, 2011. 328 pages. ISBN: 978-3-89913-865-8.

Table of Contents (pdf)
After the conference the book will be available for purchase for €39 from this page and from Ergon Verlag.