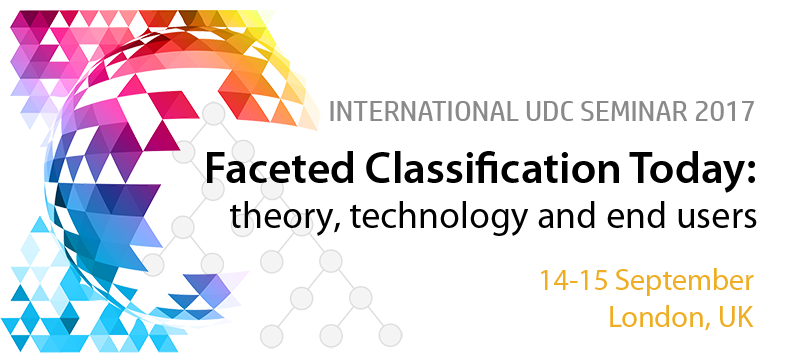 The International UDC Seminar 2017 "Faceted Classification Today: Theory, Technology and End Users" will take place in London on 14-15 September 2017. This is the sixth in a series of International UDC Seminars devoted to advances in documentary classification research and their application in a networked environment.
International UDC Seminar 2017 marks the anniversaries of two conferences devoted to faceted classification research: sixty years since the First International Study Conference on Classification Research (Dorking, 1957) and twenty years since the the Sixth International Study Conference (London, 1997).
This conference revisits faceted analytical theory as a method for (re)constructing modern analytico-synthetic classifications and explores potential fields of application for facet analysis in information organization, visualization and presentation of large datasets, social networks and in the open linked data environment.
The conference will be openend by Emer. Prof. Vanda Broughton, the Editor of the Bliss Bibliographic Classification 2nd edition and Associate Editor of the Universal Decimal Classification and well-known author in the field of faceted analytical theory. The topic of faceted classification and its role in information organization will be addressed by other eminent authors in the field of knowledge organization and classification: Richard Smiraglia, Birger Hjørland, Kathryn La Barre, Joseph Tennis, Claudio Gnoli, ARD Prasad & Devika Madalli, etc.