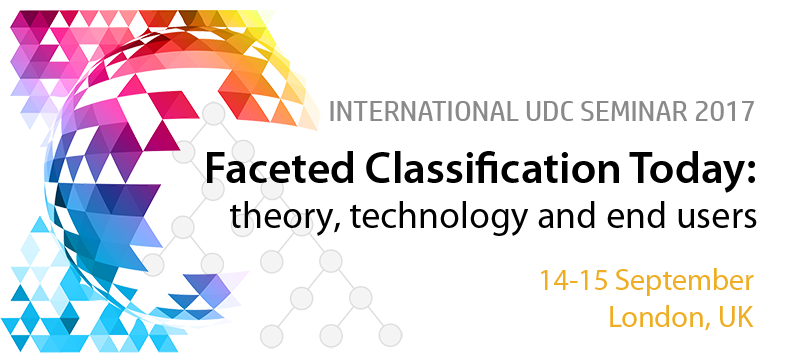 The International UDC Seminar 2017 "Faceted Classification Today: Theory, Technology and End Users" will take place in London on 14-15 September 2017 at Wellcome Collection. This is the sixth in a series of International UDC Seminars devoted to advances in documentary classification research and their application in a networked environment.
This conference revisits faceted analytical theory as a method for (re)constructing modern analytico-synthetic classifications and explores potential fields of application for facet analysis in information organization, visualization and presentation of large datasets, social networks and in the open linked data environment. It is aimed at information professionals, researchers, lecturers in library and information science and computer science as well as controlled vocabulary developers and designers.
Two eminent keynote speakers will set the scene: Prof. Richard Smiraglia, the Editor-in-Chief of the Knowledge Organization journal and Prof. Vanda Broughton the Editor of the Bliss Bibliographic Classification. The topic of faceted classification and its role in information organization will be addressed by other eminent authors in the field of knowledge organization and classification: Birger Hjørland, Claudio Gnoli, Joseph Tennis, ARD Prasad & Fausto Giunchiglia, Dagobert Soergel, etc.